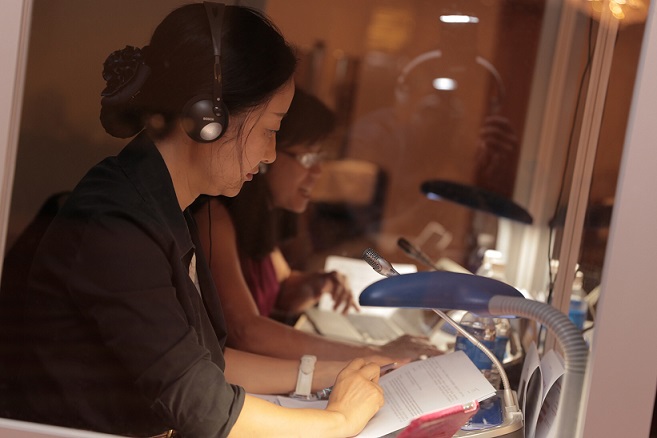 Simultaneous Interpreting
During Simultaneous Interpreting, the interpreters are required to convey the message into the target language at the same time as the speaker is talking. As little to no delay between speaker's speech and interpretation is permitted, simultaneous interpreters are often required to work in a team of two, taking turns to perform every 15 minutes or so, for optimal performance.
The facilitation of simultaneous interpreting requires professional simultaneous interpreting equipment, which include microphones, transmitters, receivers and interpreting booths. This method is frequently used to cater for large scale Conferences, Summits, Board Meetings, Focus Group and, etc.
Tips:
The equipment that needed for Simultaneous Interpreting is more important than you thought it would be. Incompatible equipment or equipment breakdown could lead to the result that your delegates are unable to bring any takeaways from the Conferences.
Need simultaneous interpreters? Click on "Ask For A Quote!"
Event: Z press conference in Singapore
Needs: The press conference will be conducted in English. However, there is a small group of 1-2 participants from China, who are not comfortable with English and requested for interpreting service.
Solution:
The best method of this scenario would be Whispering Interpreting. Whispering Interpreting is one of the simultaneous interpreting methods where interpreter will be sitting beside the delegate(s) who require interpretation. (only effective for up to 2 delegates).
Elite will recommend rental of the tour guide wireless system to facilitate the interpretation for more than 2 delegates. Normally, 2 interpreters will be needed as mode of interpretation is simultaneous.
Event: Y conference in Singapore
Needs:
Several speakers around the world have been invited to deliver keynotes in the conference. However, some of the speakers have requested to deliver the keynotes in their native language such as Russian, Japanese and Chinese.
There are 10,000 participants expected to attend the conference and most of them understand English.
Solution:
For scenario B, we would suggest Relay Simultaneous Interpreting. Relaying interpreting is one of the common simultaneous interpreting methods used when there are multiple target languages at an event, or when there is a request for rare language combinations. For example, it is relatively harder to find a Spanish-Korean simultaneous interpreter compared to an English-Spanish interpreter or an English-Korean interpreter. As such, the two interpreters' teams form a "relay" team. The graph below demonstrates how Relay Interpreting works.